Hong Kong Dollar Touches Key Level for First Time Since 2005
Hong Kong's dollar fell to the weak end of its permitted band for the first time since the range was imposed in 2005
Hong Kong's dollar fell to the weak end of its permitted band for the first time since the range was imposed in 2005, a warning sign for a city where easy money has stoked a property boom and underpinned the stock market's record rally.
The spot rate reached HK$7.85 per dollar on Thursday, after threatening to do so since late March. The Hong Kong Monetary Authority, which is obligated to defend the band, said in a statement that it stands ready to fulfill any requests from banks to support the currency.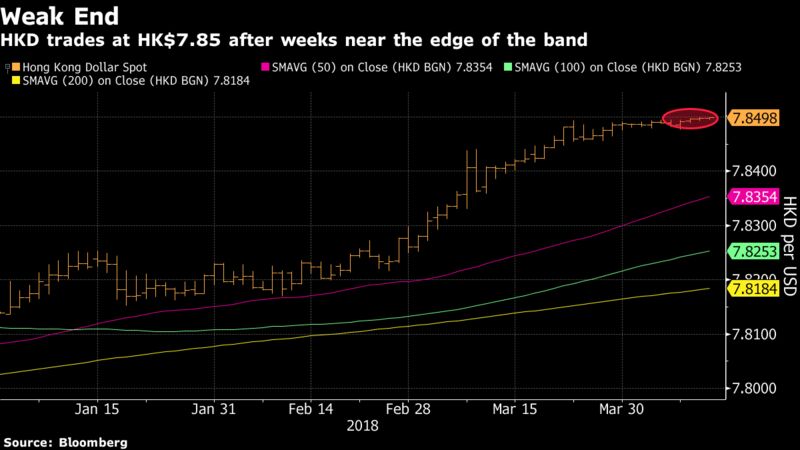 While the HKMA hasn't intervened so far — and is seen to be able to comfortably shoot down speculators if need be — buying the currency has the potential to boost borrowing costs by draining liquidity from the city's financial system. That would signal the end of the era of ultra-cheap money that made Hong Kong the world's least affordable market for housing and propelled equities to all-time highs in January.
"We don't see an immediate impact on property and stocks when HKMA starts to intervene," said Ryan Lam, head of research at Shanghai Commercial Bank Ltd. "But once Hong Kong dollar rates start to climb, there will be outflows from stocks to bonds because bond yields would rise with rates and would start to look more attractive. Higher rates would also affect property market sentiment and more investors would adopt a wait-and-see approach."
Rate Gap
Hong Kong's dollar has been on a downtrend over the past year as the gap between local rates and those in the U.S. widened, prompting traders to borrow in the currency to buy the greenback. Chinese companies have also been using the city's currency to fund overseas acquisitions, contributing to the weakness, according to Mirza Baig, head of foreign exchange and interest rate strategy at BNP Paribas SA.
"The outflow from Hong Kong is not just driven by the interest rate differential, but also China's outbound investments," he said. "The Hong Kong dollar will test the 7.85 per dollar level repeatedly for some time and the HKMA will need to intervene at some point to drain liquidity in the city."
The currency traded at HK$7.8499 as of 5:31 p.m. Hong Kong time, data compiled by Bloomberg show. Traders in New York and in Asia, who requested anonymity, said the pair changed hands earlier at the HK$7.85 level. HKMA's portal on Bloomberg, last updated at 4:05 p.m., showed no intervention.
The move to the weak end of the band has been well anticipated and has come without the fireworks associated with speculative attacks on pegged currencies. Trading volume in options remains well within normal ranges, and even by Hong Kong dollar standards, the currency's daily moves have been tiny. The Hang Seng Index of stocks fell 0.2 percent Thursday.
'Well Positioned'
"We believe the HKMA is well positioned to maintain the peg, aided by a record amount of FX reserves, strong fiscal surplus and comfortable current account surplus," strategists led by Heng Koon How at United Overseas Bank Ltd. wrote in a note. "As long as the HKMA is able to guide local rates higher in a gradual and controlled manner, there will be minimum disruption to local asset markets."
The UOB analysts said that the HKMA may issue more Exchange Fund Bills as a way to soak up liquidity on a temporary basis. The authority did that in August and September, announcing EFB sales totaling HK$80 billion ($10.2 billion). Still, Chief Executive Norman Chan said in a blog post last month that the HKMA had no immediate plan for extra sales.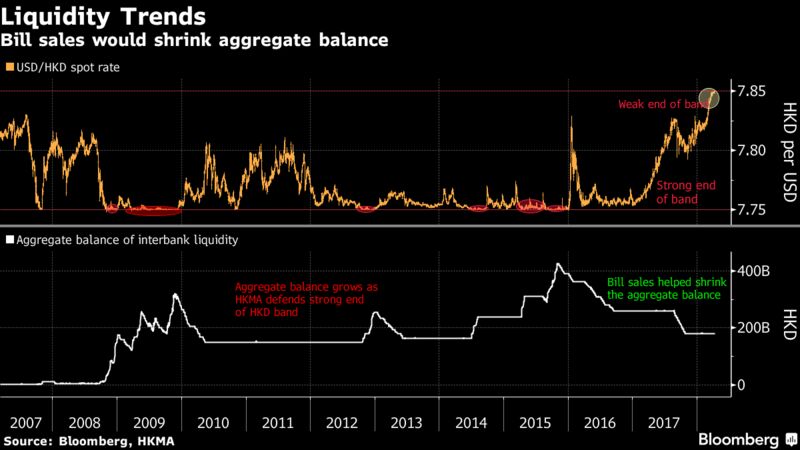 The last time the HKMA bought Hong Kong dollars was in 2005, shortly before the new band was implemented to curb funds flowing into the Asian financial hub to bet on a stronger Chinese yuan. But inflows continued after the financial crisis, encouraged by the currency peg and steady Chinese and local economic growth. This kept liquidity flush even as the U.S. began tightening monetary policy in 2015, causing Hong Kong's rate discount to widen sharply from early 2017. While the HKMA's debt sales helped close the gap at times, they never reversed the trend.
"Looking at the intraday chart, it was only for a very brief moment that 7.85 was hit," said Irene Cheung, a senior strategist at Australia & New Zealand Banking Group Ltd. in Singapore. "The USD-HKD yield differential will likely remain wide for a while."
Comments
comments