Emerging-Market Contagion Fear Sparks Deepening Rout
Meantime, the dollar is winning by default

Emerging markets sold off anew Tuesday as South Africa entered a recession and Indonesia's rupiah joined currencies from Turkey to Argentina in tumbling toward record lows, reinforcing concern that contagion risks are too big to ignore.
MSCI Inc.'s index of currencies dropped for a fifth time in six days, the lowest close in more than a year. The rand led global declines as data showed the economy fell into a recession last quarter. Turkey's lira slid on worry the central bank will disappoint investors at its rate meeting next week, while the Argentine peso slumped to a record and Indonesia's rupiah sank to the lowest in two decades even after the central bank intensified its fight to protect it.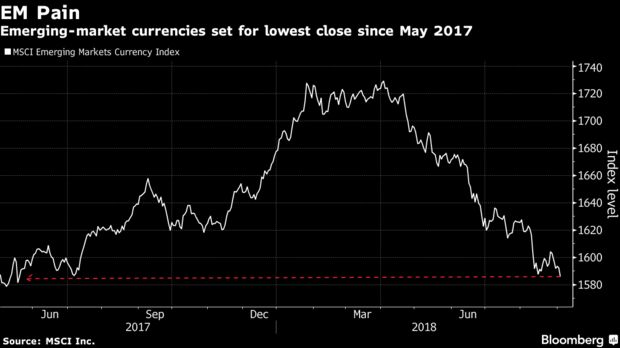 The dollar extended its advance to a fourth day as Donald Trump threatened to ramp up a trade dispute with China with an announcement of tariffs on as much as $200 billion in additional Chinese products as soon as Thursday. As U.S. rates rise, investor fears over idiosyncratic risks in emerging markets have climbed, including Argentina's fiscal woes, Turkey's twin deficits, Brazil's contentious elections and South Africa's land-reform bill.
Meantime, the dollar is winning by default, according to Kit Juckes, a global strategist at Societe Generale SA.
"There's not much to make me think the dollar should be going up, but there's plenty to make me nervous about other currencies," Juckes said. "The dollar is very strong and lacking rate support, but other currencies are worse."
Comments
comments